Web accessibility is among the most significant digital concerns nowadays, affecting everyone from tiny businesses to large corporations. As a result, businesses are now investing in online website accessibility tools to guarantee that their websites provide equitable experiences, adapt to the changes and complex WCAG success criteria, and comply with worldwide accessibility standards.
In this article, we'll go through some reliable website accessibility tools which might help you create a user-friendly website. However, before we dig into various sorts of tools, let us take a glance at the basic principles of web accessibility and how a web accessibility tool benefits businesses in leveraging the website's performance.
Basic Principles of Web accessibility:

Image: Source.
Web Content Accessibility Guidelines (WCAG) are the most crucial web accessibility standards to follow. WCAG employs four primary concepts to assist businesses in providing access to the broadest possible variety of customers and ensuring that their services are compatible with the majority of assistive technologies:
Information and UI components must always be presented to users in a clear and understandable manner. Customers must completely comprehend information through all their senses.
This principle stresses the user's ability to efficiently use different configurations, navigational, menus, and interactive elements. For many website users, this includes websites being capable of utilizing audio signals to access web content or utilizing a keyboard to navigate a webpage.
The operation of a user interface and the information it offers must be understandable and straightforward. As a result, users will be able to comprehend the webpage's content as well as how to use the interface.
All visitors, including those who use assistive devices or software, must consistently grasp and consume the material on your website.  For instance, creating HTML that can also be interpreted by assistive technology.
What is a Website Accessibility Tool?
Technology has now become a necessity in everyone's life. As the digital world takes over, a diverse range of solutions are established to encounter the problems faced by internet users. 
Internet usage serves to be a convenient way to get access to communication channels, information, and services. Hence, making it a mandatory component for everyday living. Therefore, for those who have disabilities, the internet may only be accessible to them by using assistive devices like screen readers.
There are different types of Web accessibility tools. Some website accessibility tools monitor the website's user flow for measurable accessibility metrics. On the other hand, some tools are used by individuals while browsing through a website. They assist in enhancing their online experience.
Benefits of Website Accessibility Tools: 
Monitors and audits websites to check accessibility metrics without any extra effort. 
Enables web designers to make their websites accessible, even if they are in the middle of establishing them.
Users with accessibility issues can use in-app solutions to make their lives easier.
Ensures that businesses are adhering to accessibility guidelines.
Types of Website Accessibility tools and software: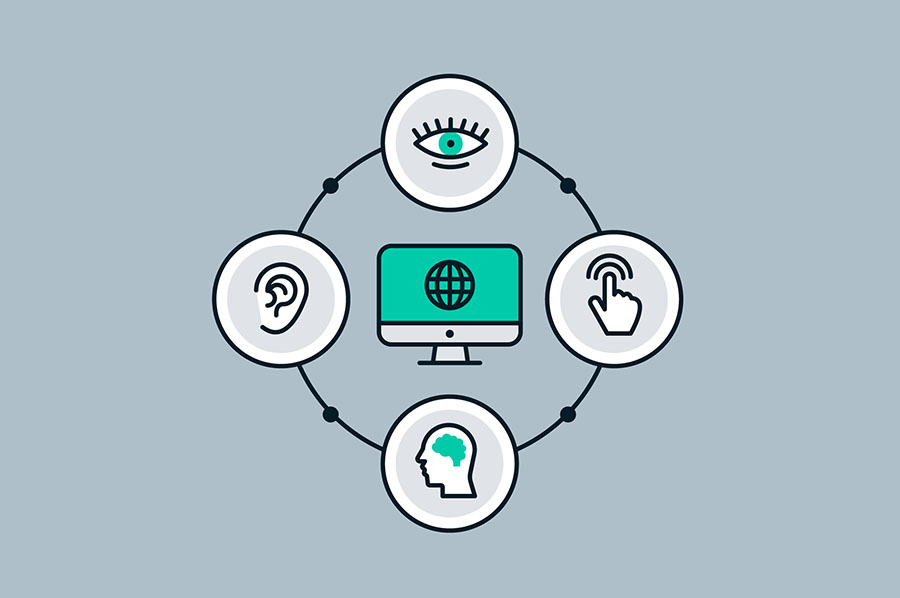 Website accessibility software can help people with impairments use the internet in a variety of ways. Some software can be utilized by the user themselves. Meanwhile, some help website owners assess their usability and give them the authority to make changes to their website.
Website Accessibility Monitoring and Auditing:
The main issues that businesses encounter are with web accessibility. This includes auditing and monitoring entire websites and individual web pages for WCAG compliance.
Thus, these technologies can help you out in such scenarios. They evaluate websites at once and provide necessary adjustments. In addition, they can also keep a continuous check on the monitor websites for compliance problems.
These web accessibility tools will highlight the website's elements that are in violation of web accessibility guidelines or incompatible with assistive accessibility technologies such as screen readers. In addition, many such online solutions will enable individuals to make essential changes within their websites or applications. Other tools will assist you in making changes instantly as issues emerge automatically.
Assistive Technology Software:
Users with impairments who require supplementary hardware and/or software alternatives to use digital devices employ assistive technology to gain access to them. In some cases, to enable the use of computers or any other electronic device, assistive software is often used in combination with that. In addition, these software solutions can give users the authority to alter the web pages to make them more user-friendly. 
Reliable Web Accessibility Tools: 
Anyone seeking to add their website to WCAG in compliance with ADA can use a range of website accessibility tools. These tools come in a wide range of formats, from internet browser extensions and web services to software apps. The following is a handpicked selection of free web accessibility tools:
1.WAVE: 
WAVE is an online suite of tools used to determine the accessibility of the website's content for everyone, despite disabilities. Particularly covering accessibility issues concerning headings, pictures, color contrast, and labels. 
You can use WAVE by just entering the web page address. It can also be installed in a web browser or can be utilized via the API function.
2. IBM Accessibility Toolkit:
IBM accessibility toolkit is an open-source browser extension for web designers. To discover accessibility concerns, this website accessibility tool employs IBM's rule engine. 
It works well with both Firefox browser and Chrome. IBM also has Karma and NodeJS plug-ins for those that want a more thorough integration.
However, IBM Accessibility Toolkit is free to use, but IBM charges for premium services that can be used in conjunction with it.
3. AChecker: 
This open-source web accessibility tool was created to assist web content developers in ensuring their websites are accessible. 
You can utilize AChecker by either inputting your site's address, copying the entire HTML source code to the web accessibility tool or just uploading an HTML file. It also gives users the authority to create their own standards for evaluating HTML content if they have any specifications.
4. WhoCanUse: 
WhoCanUse is an excellent web accessibility tool used for evaluation. It is designed mainly for web designers that enjoy choosing the ideal color schemes for their websites.
This online analyzer has a terrific user interface that allows you to employ a sliding gradient or to enter a hex color code to choose text color and appropriate backdrop color.
It would then reveal which vision patterns your color scheme may not fit with, and also their percentage distribution in the global population.
5. Crownpeak:
Crownpeak entails its own developed Digital Quality Management (DQM) tool. This tool enables users to identify online accessibility difficulties, SEO flaws, broken links, and other discrepancies affecting the website's quality. 
In addition, they provide a free scan of the website along with a report, having all the details of the issues and how to resolve them. They also provide a paid web accessibility solution which includes:
Deep screening and reporting of website's accessibility.
Testing, consultation, and remediation according to the WCAG Manual
Assess comparative performance across multiple websites and demonstrate progress with reporting, statistics, and benchmarking measures.
For website visitors, it provides automatic Artificial intelligence compliance and web restoration.
6. Tingtun Checker:
Tingtun is an open-source accessibility tool that identifies barriers to accessibility in website content for individuals with impairments. 
This web accessibility is capable of analyzing both HTML and PDF documents. It also gives consumers the option to manually test their accessibility against specific WCAG 2.0 requirements.
7. ChromeLens: 
280 million people of the world's population are visually handicapped. ChromeLens has produced many web accessibility solutions to assist these people in gaining web access. Thus, to ensure that the website is accessible to such users, ChromeLens provides:
Filters that enable a colorblind user to see a website through their eyes.
Trackers that enable users to use keyboard navigation and utilize tab/shift-tab. This will help give them access to the tab/shift tab.
Scanners to enable them to evaluate website accessibility.
8 Accessibility Check: 
Accessibility check is a free web application that scans a list of URLs or a website to look for problems with accessibility. This web accessibility tool can evaluate more than 400 URLs at once and is capable of looking at 41 distinct web characteristics like an aria, navigation, contrast, labels, and audio & video.
9. TAW: 
We presume that because English serves to be the international language of trade and business, the majority of the world wide web is in English. However, that's not the case as besides English we have more widely spoken dialects that need to be addressed.
Taw jumps in to assist with Spanish-language website accessibility testing. However, this online web accessibility tool is free to use. They also provide costly training and accessibility certifications to users, if they require any.
This web accessibility tool was created with iOS developers in mind for evaluating accessibility. It enables you to inspect your apps immediately on an iOS device, eliminating the need to scrutinize each component in Xcode. Since the iOS app team designed it, this web accessibility tool proves to be the best online solution for iOS developers (AUS).
Every day you certainly get a lot of emails, the majority of which are not even accessible. Thus, utilizing this web accessibility tool can help you in this scenario, as it was established to aid the digital email marketing community in promoting email accessibility. It will analyze your campaign's HTML code and will also offer you a free accessibility report in return.
12. Bookmarklets for Accessibility Testing:
Paul J. Adams has built a number of accessibility tools, including the Bookmarklet for Accessibility Testing. Paul is a Texas-based mobile and online accessibility expert with a wealth of experience. Using JavaScript, he designed a Bookmarklet to showcase the roles, statuses, and features of accessibility components on a web page. This web accessibility tool is free and open source. It may serve the best purpose with a screen reader as well as for browsers.
13. Aditus Button Contrast Checker: 
Aditus is a web accessibility tool established to ensure the accessibility of icons/buttons and links on the web page.
However, it may appear to be a little goofy, but it's a fact that buttons/icons and links are the foundation of any website. Everything will fall apart if we exclude them from the framework of the website. Therefore, Aditus will review your website and guarantee that your buttons comply with the WCAG 2.1 contrast guidelines.
14. Asqatsun:
The most widely used open-source web accessibility evaluation program is Asqatsun.
This web accessibility software began as a commercial internet accessibility solution before becoming free and serving as an open-source. As a result, since it has commercial roots, it entails several automatic operations built-in. In addition, it has the ability to encounter search engine optimization problems.  
Conclusion: 
The competition to grab user's attention is becoming increasingly fierce. Thus, all digital platforms should prioritize user experience and adhere to your company's high standards. 
Utilizing a Web accessibility tool while browsing through the website can fill the discrepancies user is facing. For instance, the accessibility tool Aditus ensures the accessibility of icons and links on the website. While on the other hand, we have TAW which enables foreign users to get access to the website's content. They are more such tools as discussed above. 
In addition, accessibility tools will enable you to alter your website instantly, and you'll know what to focus on in the future. Improving your web accessibility will result in establishing customers lifetime value and you'll experience faster business growth.